Manager Perry Capers Featured in the Post & Courier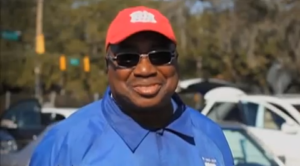 If you've ever been to In & Out Car Wash, there's no doubt you know Perry Capers. Perry's been the manager at In & Out Car Wash for 50 years (and counting) — and we don't know what we'd do without him. But we're not the only ones who love him. The Post & Courier featured a wonderful story about Perry a couple of years ago, and it's well worth the read. We couldn't be more blessed and more proud to have Perry as part of the In & Out Car Wash family.
Here's an excerpt…
It's car wash weather on this fine Saturday morning — cloudless skies, about 70 degrees — and Perry Capers is holding court at the In & Out, as he has for 50 years.
"Clean that up a little better, Ricky," Capers says, as he muses on the changes he's see in the car wash business and the world during the past half- century.
When Capers started as a scrubber, schools were segregated and corn grew near where today is the busy intersection of St. Andrews Boulevard and Wesley Drive. "We did everything by hand then," he said.
But as the country grew more prosperous after World War II, automated car washes became the rage.
"I grew up on a farm on Johns Island, and I knew what hard work was like," Capers said. "I got the job when I was 17. The owner was Mr. (Patrick) McGinnis, and we hit it off. In about '66 or '67, I became assistant manager, and a few years later, I took over as manager. And I've been manager ever since."