Benefits of Waxing Your Car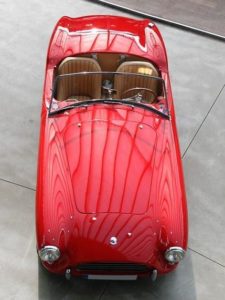 Did you know April is Nation Car Care Month? To mark the occasion we wracked our brains for the ultimate car care tip to keep your motor pristine for the next 31 days and beyond, and it all boils down to one thing: wax!
The Benefits of Waxing Your Car:
– Keeps it shiny and dirt-free for longer (so you won't have to wash it as often)
– Protects the paint work from natural aggressors like pollen, which can be a nuisance at this time of year
– Provides UV protection (a car's paint is susceptible to premature aging, just like your skin)
– Eliminates unsightly water spots (liquid will run right off the waxy surface)
To keep your vehicle immaculate, In & Out Car Wash recommends the following waxing regimen:
1. A paste wax and buff at least twice a year – preferably during the onset of spring and fall
2. A liquid polish wax (we call it the Express Wax) every 3-4 weeks
3. A spray on wax after every wash (pick from Classic, Rainbow or Body Shield)
Stop by In & Out and we'll treat your pride and joy to the pampering it deserves for National Car Care Month.