How to Prepare Your Car For a Road Trip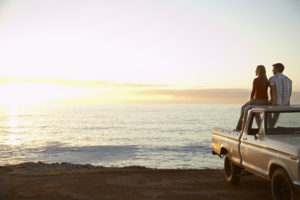 Can you feel it? Summer is definitely on its way, and we're beginning to dream of warm weather adventures.
If a cross-county road trip is on your agenda this year, you'll need to make sure your vehicle is in tip-top condition (what's worse than getting stranded on a isolated highway, in the searing sun, with a flat?) Heed this advice and you'll be on your way to a vacation that's memorable for all the right reasons.
How to Prepare Your Car for a Road Trip
1. Schedule a check-up

Two weeks before you hit the road take your car in for some maintenance and TLC. Get a mechanic to give it the once over, checking the oil, transmission fluid, antifreeze/coolant, radiator coolant, brake fluid, windshield wipers and washer fluid, power steering fluid, and brake pads.
2. Check your tires

Examine your tires for any bulges, tears or other signs of damage. It's also important to check there's enough tread left to take on any road conditions you might encounter during your journey. You can do this yourself by holding a quarter upside down in the tread. If you can see the top of George Washington's head it's time for replacements.
Even if the tread looks in good shape you should still check the tire pressure. Make sure it's set to the figures printed in your car's manual.
3. Review all your documents

Check the expiry on your license, license plate sticker, and insurance, to ensure you're completely covered and up-to-date.
4. Plan your route

Set aside some time to figure out which roads you'll be taking, how long each leg of the journey will be, and where you can stop to refuel your car and yourselves. Invest in a GPS if you think you'll need one (they can also be handy for anticipating any traffic jams along the way).
5. Head to the car wash

Take your car to In & Out for a thorough wash inside and out, so you can start your trip with a shiny, clean ride.
Follow these steps and you'll be ready to road trip in no time!