What To Do If Your Car Gets Flooded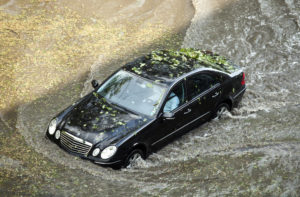 When we published our last blog post, National Preparedness Month Vehicle Checks: Are You Ready?, we had no idea how useful it might actually become.
The flooding that hit South Carolina was even more devastating than any of us could have predicated. Our thoughts are with those who lost so much in the wake of the water. We hope you can regain some sense of normality soon.
If your car was immersed don't try and start it, or the engine might get damaged beyond repair. Follow these steps to see if it's salvageable:
1. Contact Your Insurance Company

If you have comprehensive auto insurance you should be covered — even if your car is totaled (if the tide line reaches your dashboard, it's probably a write off). Call and file your claim early because chances are they'll have a deluge of paperwork coming their way after the flood.
2. Begin the Drying Process

Prevent mold by opening the doors, windows, trunk and hood so that air can circulate. Lay down towels to absorb water from the seats and floors. Your insurance company will probably pay out for replacement carpets, floor mats, seat padding etc, so keep receipts for anything you buy.
3. Check the Oil and the Air Cleaner.

Are there droplets of water on the dipstick? Is the level of the oil high? Does the air filter have water in it? If so have your car towed to a mechanic to have the water cleared and the fluids changed.
4. Check all of the Electrical Systems.

If you're confident it's safe to start the engine, check your car's electrical systems, including indicators, headlights, AC, stereo etc. If there are any red flags it could be a sign of systemic electrical issues. Take your car to a mechanic and get them taken care of ASAP.
5. Check Around the Wheels and Tires

Before you move the car do a quick sweep around the wheels and breaks for any debris that may have become lodged there during the flood.
---
Once your car has dried out and you've established the car is safe to drive, bring it to In & Out where our friendly team will be happy to give it a thorough clean.