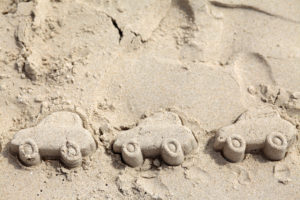 We're so lucky here in Charleston – we get to live in a vibrant, buzzing city that has easy access to beautiful, spacious beaches, too. But before you pack a hamper and swimsuit and cruise on down to Folly this summer, remember that seaside jaunts can have a negative impact on your vehicle. Here's how to protect your car at the beach…
The Hazard: Erosive Salt
Salty residue can erode your car's nice, shiny paint work. It's not necessarily obvious to the naked eye, but left to its own devices the salt can even contribute to rust.
The Fix: Polish
A liquid polish wax (the Express Wax) every 3-4 weeks during summer or a spray-on wax after every wash (pick from Classic, Rainbow or Body Shield) will help ensure your paint stays unblemished and ultra reflective. (Read more about the benefits of wax here).
The Hazard: Pesky Sand
The downside to nice, fine Charleston sand? It gets everywhere! A car-load of sandy passengers can mean you'll be brushing grains from your seats and floor mats for months to come.
The Fix: Park Smart
Park your car close to a beach shower and ask everybody to wash off as much as possible before making the journey home.
The Hazard: Scorching Sunshine
That strong South Carolina sunshine can cause discoloration and damage to your car's interior if you're not careful.
The Fix: Be Shade Savvy
If possible park undercover, but if there aren't any trees around invest in windshield and window sun shades instead to protect your dash, steering wheel, center console and seat fabric. (Read more about protecting your vehicle from the hot summer sun here).
The Hazard: Mold-Causing Moisture
Soggy swimsuits on car seats can encourage mold to breed on the fabric and even the foam underneath.
The Fix: Cover
If possible make sure everybody changes out of wet clothing before entering the car, but if that isn't an option try and pack clean, dry towels to lay on the seats as a moisture barrier.