Cleaning Your Car's Interior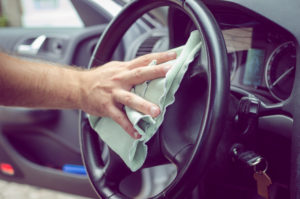 Between beach sand and crumbs from road trip snacks, summer can be tough on your car's interior. If yours is looking a bit worse for wear, work your way through this checklist and it'll be as good as new in no time.
Vacuum Interior
After round one, pound your seats (if they're upholstered in fabric) and floor mats. Watch the dust fly, then vacuum again. Make sure you get into all the nooks and crannies between and under the seats.
Remove Stains from Fabrics
Stains or marks on your interior fabrics are best removed with a good carpet shampoo. Be careful not to use too much water, or your seats and carpet might end up smelling like mildew.
Clean Leather
Invest in a purpose-made cleaner and conditioner for leather seats and panels (to maintain the natural oils which contribute to its suppleness). Use a cloth to thoroughly wipe each area, paying close attention to stitch lines, where dirt can accumulate.
Wipe Down Vinyl
This area – particularly the dash – is vulnerable to UV damage from the sun. Wipe it regularly with a soft cloth and cleaner, then use cotton swabs to get in between the vents.
Polish wood
Real or faux, wood surfaces in your car's interior need a gentle touch. Wipe with a damp cloth and apply a little wax for added luster.
---
Cleaning your car's interior is one of those jobs that needs to be tackled on a monthly basis, but it's hard to find the time. That's where In & Out come in! All our washes include a basic interiors clean, and our a la carte detailing covers more specialist treatments. Find out more on our Services page.