Clean Your Car in Time For Spring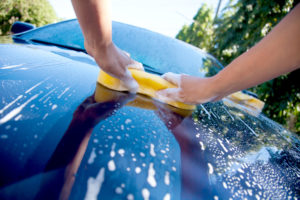 Thanks to the wet, salted roads of winter and long car journeys over the holidays your car can end up looking a little bit unloved around this time of year. As spring approaches, now it the perfect time to give it a proper clean.
1. Tidy up the interior
Grab a plastic bag and collect the trash that's hiding in compartments and nooks. At the same time gather up all those unnecessary items — like the ice scraper or the spare pair of sneakers you haven't worn in forever — and remove them.
Wipe down the leather seats and give the floor a proper once over with the vacuum cleaner. Then reorganize all your in-car essentials with the help of these clever storage solutions.
2. Do a routine maintenance check
Check the fluid levels, tire tread, breaks, belts, battery and wiper blades. Pop the hood and wipe down the engine parts with a damp cloth and degreasing product, like Gunk (avoiding the fuse box as you go).
A proper mechanic can perform these checks for you if you aren't sure what to look for.
3. Get the exterior washed and waxed
Wash the car from top to bottom using a soft sponge and plenty of soapy water.
Once it has air dried apply a layer of wax to keep it shiny and dirt-free. Wax also protects the paint work from natural aggressors like pollen, which can be a nuisance during the spring months.
---
Don't have time for all this cleaning yourself? Bring your car to In & Out (minus the trash) and we'll give it a thorough clean and wax in no time.